Our Mission
Palmetto Pups Groom & Play opened their business in 2019. We care for the overall well-being of your dog. Our group-play approach encourages positive benefits for your pets physical and emotional health, providing plenty of exercise and socialization. Safety and comfort are our top concerns so we encourage a meet-and-greet to ensure your pet is comfortable in this setting and will be compatible with the pack. We also have designated, private rest areas and will accommodate your pet's individual needs to the best of our abilities.
Our mission is to provide premier care to our pets and their parents. We take the time to listen and learn what you love about your pet to develop relationships with them. We believe in two-way communication and educating our clients on their pet's experience while under our care. Our goal for your pet is to provide a pleasant grooming experience performed in a loving, clean, and family-style setting. Our goal for pet owners is to wow you with our professional, personalized customer service, allowing a feeling of security as we promise to treat your fur-baby as we do our own.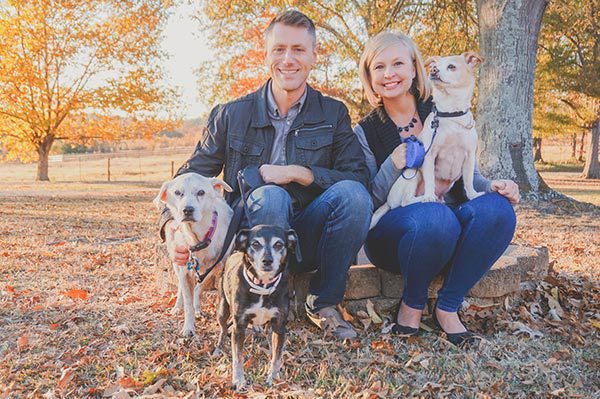 About Us
We are Brent and Jennifer Childers, graduates of Winthrop University and we were married in 2007. We've both worked in customer service related industries and that is one of our main priorities in owning a business. We plan to utilize our experience to respect pet owners time and feelings, just as much as we respect your pet.
We each grew up with dogs and since being together have had 3 dogs of our own. Our family started in 2006 with JJ, a mixed-breed with an unforgettable under bite. Around 10 years-old, JJ developed separation anxiety which has been a learning experience for us. Now well into his senior years, he is still our baby and has helped us learn and grow as pet parents.
Maggie, another mix-breed, found us in January 2008. We tried our best to find her parents but eventually adopted her as our own (who could turn that face away). She is as easy-going as it gets and still has lots of energy.
In 2013, we came across a picture of Charlie on a Rescue website. He was a 10-year old, medium lab mix with some fairly severe skin issues. We just couldn't get his sweet face out of our minds and when we went to visit him on Thanksgiving weekend we brought him home the same day. It took several months of working with our vet to get him healthier and get him used to his new home. We were so lucky to have had him for 3 and half years and it was tough to say goodbye in May 2017. Adopting a senior brought us so much joy and we'd recommend it to anyone.
Having three senior dogs at one time (one with anxiety) set the idea in motion of opening our own dog business. We wanted to offer a place where your pets are truly treated as family with individual attention. We can't wait to meet you and your furry-children and welcome you to our family.
Why Palmetto Pups for your Doggy Daycare Needs?
At PPG&P your pet has access to open play rooms where they socialize and play with the other PPG&P pack members. They also get open access (weather permitting) to a large fenced in yard with pet friendly turn and a natural area. All pups are under constant supervision while at PPG&P. Your pet will leave each day happy, worn-out, and ready to relax with you and your family at home! We can also add a bath to your daycare visit! Contact us to find out more details!
Play and wash, groom and stay…
Palmetto Pups Groom and Play is the ultimate destination for your dog!
Book an appointment or contact us to learn more about how we do dog grooming in Rock Hill, SC or visit us to see what we're all about.