We offer luxury dog grooming services for your pet.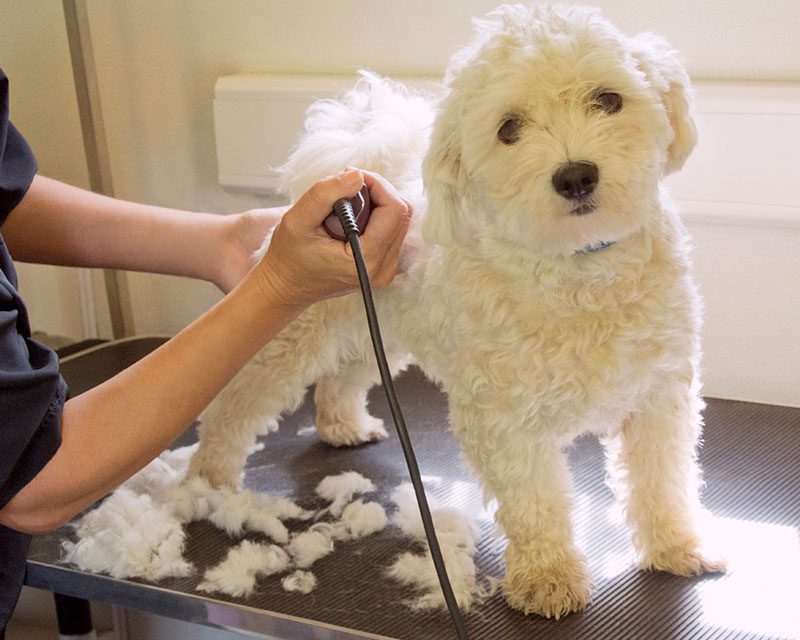 Announcement
We are temporarily unable to take new grooming clients. We are still welcoming new daycare registrations. Feel free to reach out with any questions or concerns to 803-389-6377.
As any dog owner will tell you, man's best friends can certainly get themselves into a mess! When your dog's coat has become unmanageable or just needs a little makeover, give Palmetto Pups Groom and Play a call. We offer high-quality dog grooming in Rock Hill, SC at our spa-like salon.
Your pet will be treated like royalty as they are pampered by our expert pet stylists. Our experienced groomers provide all types of grooming services. From simple washes to a totally new style, our groomers will make sure your pet looks good and feels great after each visit. More importantly, every member of our team is a dog lover who'll treat your pup with compassion and care. We use all-natural products to keep your dog's coat and skin in great condition.
Dog Grooming Services
All dogs welcome: All breeds, all sizes, all ages*
Cuts: Professional work, breed-specific styles
Baths: Specialty baths, flea baths, tick baths
Other grooming services: Nail trims, anal gland expressing, ear cleaning
Packages available: Please call or text for more information.
* Pricing: Grooming prices vary by size, breed, and temperament of your dog
Full Groom: Includes daycare for the day or half day, consultation with groomer, bath and blow-dry, full haircut, nail trim, ear cleaning and anal gland expression
Mini Groom: Also known as the face, feet and fanny, the Mini Groom includes bath and blow-dry, hair cut on the face/ears, feet, and tail/sanitary area, nail trim, ear cleaning, and anal gland expression. Does not include full body hair cut (torso). Also includes day care for the day or half day
Bath & Blow Dry: All natural shampoos and conditioners designed especially for your pup followed by a personal blow dry with our handheld air-dryers (no kennel dryers)
Nail trims and more
Before grooming:
We welcome all dogs but due to our pack-play environment, we have a few guidelines to keep everyone happy and healthy.
All visitors must be current on Rabies, Bordetella (kennel cough), and distemper/parvo vaccines. Records can be emailed to info@PalmettoPupsRH.com
All visitors must be 6 months old*
All visitors must be spayed/neutered*
All visitors must be free of fleas/ticks or flea/tick services provided at additional expense
All first-time visitors will undergo a meet-and-greet to determine temperament and group-play compatibility
*Temperament will be the ultimate deciding factor in providing services for your dog. Exceptions to these guidelines remain the right of the Owner/Manager.
Play and wash, groom and stay…
Palmetto Pups Groom and Play is the ultimate destination for your dog!
Book an appointment or contact us to learn more about how we do dog grooming in Rock Hill, SC or visit us to see what we're all about.