Let us make pet daycare easy on you!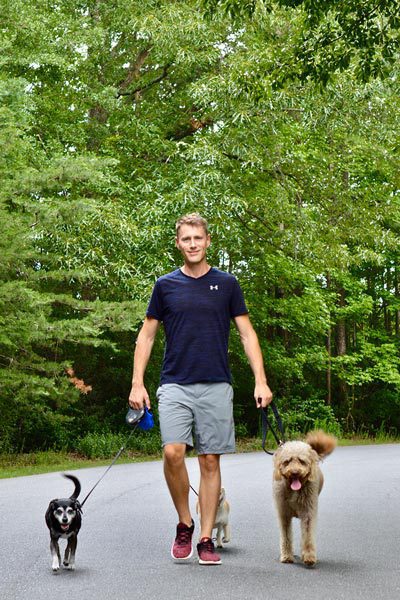 Dog Daycare
Do you worry about your dog while you're away at work, school, or running errands? Let Palmetto Pups Groom and Play ease your mind! Our Rock Hill, SC dog daycare makes things easier on you – and is fun for your dog. We know you'd prefer to have your dog with you all day. But if you can't, you want kind-hearted caregivers at a doggy daycare near you to watch over your favorite pal.
Our family-owned business will do just that.  We love dogs, and we'll take care of yours just like we take care of our own. We've created an environment that provides your dog with all the comforts of home. Our canine guests have the best of everything during their stay. While they're with us, dogs have access to a free-roaming, free-range environment with open runs.
Whether you need us on a daily, weekly, or monthly basis, you can trust that your dog will be happy, healthy, and active while they're at Palmetto Pups.
Doggy Daycare Amenities & Services
Activities: Large backyard with real grass and natural areas, indoor play space, interactive handlers
Convenience: Express drop off, pick up and payment options available. Daycare included with dog grooming packages (call or text for details)
Pricing for Dog Daycare
Monday – Friday
Full Week Discount (Monday – Friday)
Weekly Rate $60* (Monday – Friday)
*No overnight stay
BEFORE DAYCARE:
We welcome all dogs but due to our pack-play environment, we have a few guidelines to keep everyone happy and healthy.
All visitors must be current on Rabies, Bordetella (kennel cough), and distemper/parvo vaccines. Records can be emailed to info@PalmettoPupsRH.com
All visitors must be 6 months old*
All visitors must be spayed/neutered*
All visitors must be free of fleas/ticks or flea/tick services provided at additional expense
All first-time visitors will undergo a meet-and-greet to determine temperament and group-play compatibility
*Temperament will be the ultimate deciding factor in providing services for your dog. Exceptions to these guidelines remain the right of the Owner/Manager.
Play and wash, groom and stay…
Contact us today to learn more about what we do or make an appointment!